If your driveway needs more than just a seal coating, we can resurface the entire area and add an overlay. If you're starting to notice cracks more frequently and all over your driveway, then it's time to resurface. We will replace the old layer with a new layer, and when doing so, we can add design elements through various techniques to transform your driveway into a work of art. Resurfacing is a great way to protect your investment, as it can extend the life of your driveway up to 15 years longer.
In fact, we're the best company for driveway resurfacing in Plano, TX. When you look for a driveway contractor, you need to find one you trust, who is also reliable and affordable. We fit the bill for all of those qualities. We can help you decide if resurfacing your driveway is the best option for you. There are few different factors to consider when contemplating if resurfacing is right for your driveway. Not every driveway is eligible or suited for resurfacing. Generally, you can resurface your driveway if it fits with the following characteristics:
You have cracks in your driveway, but they are less than a ¼" wide
The cracks also must be less than around 2″ deep
The driveway's foundation is still very sound and sturdy
If it's less than 20 years old, maybe 25 if it's in good enough condition
The cutoff for resurfacing rather than repair is if your surface needs repairing on 30% or less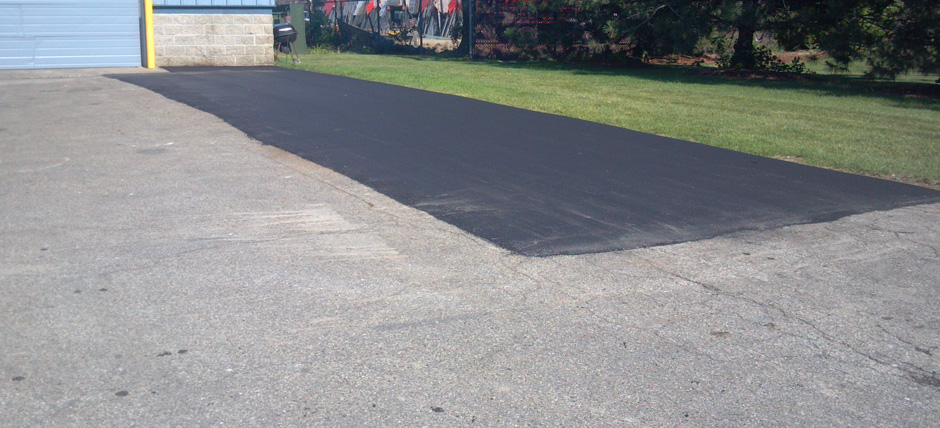 We Offer a Wide Range of Options for Resurfacing
Though we offer driveway paving and driveway repair contracting services throughout the Plano, TX, community, driveway resurfacing is a commonly chosen option for homeowners. As long as their driveway is structurally sound, we can generally offer our resurfacing options. We have a multi-step process that will have your driveway back to brand-new in less time than it would take to replace it. Here are a couple of the different options available for resurfacing your driveway.
1. Stamped Concrete or Etched Concrete
Stamping or etching concrete is an excellent way to add some unique design elements to your driveway. This is a popular option because we can use different stamps to create patterns that mimic stone or brick at only a fraction of the real thing's cost.
2. Overlays
We can use a pattern overall to create a flagstone, brick, or stone aesthetic. This is a great way to dress up your driveway and incorporate texture and design to the surface. It's also a relatively inexpensive way to add curb appeal to your home.
3. Exposed Finishes and Texturized Surface
This is a creative technique in which we use small stones to provide a rough texture to the surface of your driveway. We embed these stones throughout the entire surface, and this a popular choice, particularly because it offers an improved quality surface that is slip-free.
4. Patterns via Saw
Another design option available is a method where we use a saw to create randomized or symmetrical patterns throughout the surface of your concrete. It requires a keen eye, attention to detail, and intense focus, but our experts have the chops to handle it.
Those are just some of the design options we offer to dress up your concrete or asphalt driveway. If you need resurfacing or driveway repair, we're the leading driveway resurfacing experts in Plano, TX. Here at Plano Asphalt Paving, we have the knowledge, the know-how—and we only use superior quality materials to make us the premier choice for driveway contractors in the Plano community.