The services we offer here at Plano Asphalt Paving also include concrete driveway repair in Plano, TX, and the surrounding communities. Concrete is one of the most durable surfaces, but after a few decades, it needs repair. If you're installing a concrete driveway from scratch, we're the leading concrete contractors in Plano, TX, getting the job done. We also do concrete driveway repairs too. It's essential to have a properly maintained driveway: it makes your home look better, boosts its value, and gives you a nice smooth place to park and drive on every day. That's why it's so important to take advantage of our services, so you can keep your home or business in excellent condition and properly maintained.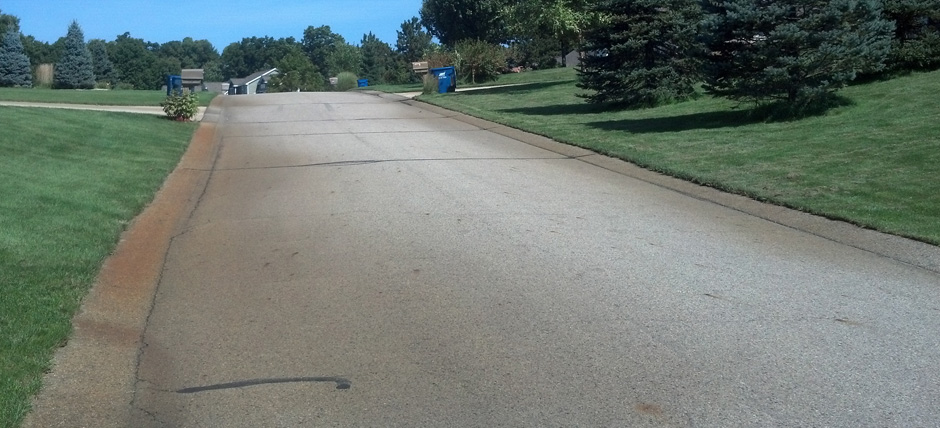 Cracked, Discolored, or Crumbling Concrete? Let Us Repair Your Driveway
Maybe your concrete driveway looked amazing when it was first installed, but if it's been there for a few years, there's a good chance it needs repair. If you notice cracking, discoloration, stains, crumbling, settling, holes, or scaling, we can fix any of those problems to return your driveway and concrete to excellent condition. If your driveway is experiencing any of those problems, it could be due to a few different things. The first that the subgrade was incorrectly compacted. It also could have been an inferior quality concrete mix, exposure to inclement and harsh weather, or poor placement during installation.
The good news is, you don't have to rip out your entire driveway and replace it just to get rid of some cracks. Even if the cracking is extensive, our expert concrete contractors here at Plano Asphalt Paving can repair your driveway as long as it's still structurally sound. When you call us for a no-obligation consultation, our driveway contractors will come to your home to evaluate your existing concrete surface, so we can figure out what caused the damage and how to best proceed.
We Can Easily Fix Any Damaged Concrete Driveway
No matter what kind of damage you have, we can fix it quickly and easily. If the damage is minor, you might only need a coat of stain. If it's severe, we can do a total resurfacing and overlay. Minor damage, such as cracks or holes that are smaller than ¼" wide, usually only require a patch or fill. Since they're so little, they don't compromise the concrete's structure and only need minor treatment. However, if you have many small cracks or holes, we don't usually recommend patching. It would be better to do an entire resurfacing so the surface doesn't end up with different colors where it was repaired, which can be unsightly.
If your driveway's concrete surface has more extensive or numerous cracks, it most likely needs a complete concrete resurfacing and overlay. If you notice spalling, this also requires immediate repair. Spalling is when the surface of your concrete chips and peels, typically in a horizontal direction. Larger cracks and holes are especially vital to fix right away. They ruin the surface of your smooth driveway, and if left untreated, will eventually destroy its structure and foundation.
Choose Us For Concrete Driveway Repairs
Your driveway is an investment in your home or business. When the concrete driveway you have falls into disrepair, it's essential to call a concrete contractor or driveway contractor that you trust to repair it properly. Here at Plano Asphalt Paving, we have the skills and expertise needed to accurately and efficiently repair your concrete (or asphalt) driveway. Our staff are all highly trained in the art of driveway repair and have the dedication and focus required to do an excellent job every time. Call us for a no-obligation quote for your concrete driveway.