Welcome To Skye Asphalt
Asphalt Paving in Plano
We serve the Plano Texas area for all your paving needs. Let me tell you the benefits of asphalt paving. By doing asphalt paving Plano Texas, there is a lot of advantages. Asphalt is 100 percent recyclable, it's good for noise reduction, cost-efficient, the projects can be completed quickly, it's good for water drainage, it is safe. For all these reasons you should consider Asphalt Paving in Plano provide by our company, Skye Asphalt.
Asphalt has qualities such as skid resistance, and the dark color of asphalt helps ice melt and snow which enables your pavement to be safer for automobiles and pedestrians. Here at Skye Asphalt, we want your business which means making you happy. Asphalt is good for water drainage because some types of asphalt is better than others. The porous asphalt lets water go through into the asphalt and then to a specifically prepared gravel base that helps filter the water back to the ground.
Asphalt projects are usually budget-friendly, and it is cheaper than concrete. Crude oil is the main ingredient found in asphalt mix, and due to fluctuations in crude oil, prices may change for asphalt as well. With asphalt, you get noise reduction because asphalt is the quieter version than concrete. Asphalt lasts super long which means about fifteen to twenty years. With proper maintenance just like any other thing, you can extend the life of asphalt as well.
Think about mother nature, you will be helping it as well if you go with asphalt over concrete because it is the most recycled product in America. Come on into Skye Asphalt to get you gravels in.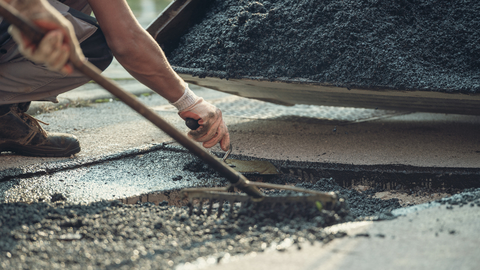 Asphalt Sealcoating in Plano
Asphalt pavement is mostly rock and stone with gravel. With rain, UV Rays from the sun, and other chemicals they can degrade the asphalt gradually. But worry no more, we have got the sealcoating for you at Skye Asphalt. The seal coat will protect the asphalt pavement to prevent it from rain, UV rays, and chemical damage.
When the asphalt sealer is applied during the sealcoating process, it will provide a slip-resistant surface with a deep black finish that will aesthetically improve the parking lot or driveway. The seal coat consists of silica sand, polymer additives, and other fluids and solids. Experts recommend that seal coat should be happened regularly to increase or double the life of asphalt so that it will save you loads on the money. As they say, "Your Parking Lot is the Welcome Mat to You Property".
Once people enter a property, they always see the parking lot or driveway, and others will make a judgement on the other person based on how their driveway looks. So, Skye Asphalt doesn't want to make that happen. With this kind of technique with us at Skye Asphalt, you should hurry in to see what we can offer you on your next deal. Try and secure your deal with us!
Asphalt Repair in Plano
Asphalt repair is a peel and pave process. It is more durable than surface patching and will resolve any reflective cracking problems you have that are caused by paving over the distressed asphalt or broken one. We usually begin this Asphalt Repair process by marking out the broken areas and cut using saws along the lines for a smooth edge. Then with an excavator, backhoe, or skid steer, we remove the existing stone subbase. Then, we test the sub base to make sure that it is capable to handle the weight of vehicle loads before the new asphalt is placed.
This process peel and pave is good for clients who need a long-term solution for their asphalt damage, have broken areas of damage, have failures due to heavyweight and frequency of traffic on the road. There is another process in asphalt repair which is full-depth repair. With this we utilize asphalt as a completely different structural system.
If the stone below the asphalt yields to the weight and frequency of traffic, then the asphalt will have to be thicker than makes up for the weak stone base. If you thicken the asphalt, then you will have to take out the stone base which weakens the system further. To compensate for this, the asphalt must be added till the new full-depth system exceeds the original structural strength of the asphalt and stone system.
Asphalt Driveway Repair In Plano
There are steps for asphalt repair. First, if weeds are growing out of the cracks, pull them out. Second, clean the cracks using a strong spray from a garden hose. Third, apply the weed killer. Fourth when the crack is deep, then fill it to within a quarter inch of the surface with the sand. Fifth tamp down the sand. Sixth apply the patching compound or concrete. Seventh allow it to cure. Eighth is to apply the sealant.
You want to make sure you fill all the cracks and holes to prevent rainwater from entering inside to the asphalt. If you are seal coating, scrub grease stains with hot, soapy water, and a stiff-bristle scrub brush if that doesn't work then you use a degreaser like Oil Eater or Zep has their heavy-duty citrus degreaser. This will remove all stains so there won't be a problem with adhesion.
For larger driveways with big cracks, potholes, or larger areas of worse problems then you can use the Vari-Flo Polymer Dispensing Machine to fill and repair in the damage. Then you want to clean and dry the asphalt before starting your repair. Then you can connect your machine and fill the damaged asphalt before topping it with the given topping sand. Lastly, you can sweep and dry your repair and see if it is complete in an hour.
Site Preparation and Excavation
To prepare the site for excavation you want to soil test, clear the site, and survey the site. Soil testing is necessary because it gives information on soil density. This tells us how well the site will be able to bear the load of any structure built upon it. Clearing the site means clearing the site of trees and shrubs. The little clearing is necessary and in other cases, there is a great deal of clearing that needs to be done.
Then you must survey the site which is a requirement in most locations because it provides specific measurements of where buildings need to be laid out and installed. You can think of this as the transformation of construction plans on paper into a real site. Then the surveyor can tell the excavators and construction members of where the building should be placed and built. We know this so come on into Skye Asphalt for your needs.
Lot Stripping and Marking
Lot parking is important for a lot of reasons. The people who come to your parking lot need to know where to park, and the marking on the pavement is going to point them to the right way of the path. If you don't have marking, then that would be chaos. You want to have a positive experience from start to finish when they visit your business, and then one of the first things that customers will see if your parking lot.
First impressions must be strong. Skye Asphalt can help you get there and make your clients happy. Markings fit a maximum number of vehicles. A well-designed lot will make it feasible for many vehicles to be parked and get ins and outs as much as possible. You must make sure under Americans with Disabilities Act you are complying with that. To comply, you must provide a specific number of spaces within your lot that will account for those people coming in. Knowing city, state, codes in at Skye Asphalt here in Plano we will make sure that gets done.
Why Skye Asphalt in Plano?
For years, Skype Asphalt has been in the business in Plano Texas area. We want to serve our Plano area customers and see them happy. Making clients happy is what we want to achieve and what makes us happy as business owners. Our aim to provide the reliability and quality workmanship that our customers expect. We guarantee that all jobs will be performed to the highest standards and meet your expectations.
At Skye Asphalt inevitable issues arise, and so we are committed to turning those into positive experiences. For many years as we say we have stood by this promise. Here at Skye jobs are performed by highly experienced work crews, and each crew is led by an experienced foreman. Detailed attention is given to the proper preparation of the site before any installation of material that takes place.
Work is performed in a professional, courteous, and timely manner. Skye Asphalt ensures that inconvenience is minimized to customers and tenants. Work get done in a timely process manner. Maintaining or replacing your commercial asphalt should not be complex. Instead we want to make life easy and think of your time as gold. Due to that mentality we are not a company looking for only business but satisfaction moreover.
Make your Driveways, Parking lots, and roads look great with Asphalt Paving and seal-coating from the professionals you can trust!! We offer a variety of services all with our customers in mind.  We do Asphalt Paving and seal-coating with surgical Precision leaving your home or business looking revitalized and you with a feeling of comfort for having made the right choice. At Skye Asphalt Paving we know most of our customers on a first-name basis and that is because, most of our customers are repeat customers, Looking for Asphalt Paving in Plano, Give us a call today and find out why!! 
Driveways are always being overlooked by homeowners, until there is a real problem driveway work are ignored. But our priority is your driveways and parking lot. We offer both commercial and residential services in and around Plano. Some of our project images speak for themselves.
Our service includes both Asphalt and concrete paving.
We are a full-service Asphalt paving and Sealcoating company in Plano,TX!
---
OUR SERVICES
Our Service Area
---
CONTACT US