If you have an older asphalt driveway at your home or business, it may need repairs. If you're seeing cracks, potholes, or other broken areas on your asphalt driveway, it's vital to get these repaired straight away. A driveway with lots of cracks and potholes is dangerous, and it's harmful to your vehicle's tires and suspension to be continually bumping and scraping over broken surfaces.
Call us today for a quote on our driveway repair in Plano, TX. We can transform your old and crumbling asphalt driveway back into brand new again. There are a few different techniques for repairing driveways, and we offer them all.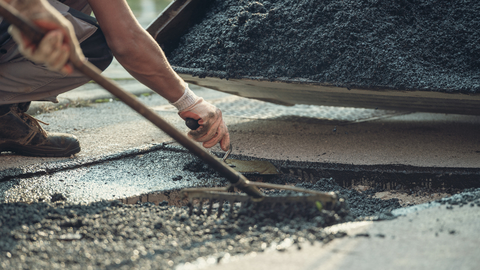 Common Driveway Problems That Require Repair
When you have an asphalt surface, it can eventually deteriorate over time and with daily wear and tear, especially if it wasn't installed correctly to begin with. Whether it's due to excessive weight, water penetration, extreme climate and temperate, or a lack of maintenance, it's crucial to repair it right away. When you allow your driveway to remain full of potholes, sinkholes, and cracks, it becomes more damaged and more expensive to fix every day. Maybe the pothole looks small, but the moisture that caused its formation ruins the structure and base of your driveway and the integrity of the asphalt. Here are some common problems to watch out for when you have an asphalt driveway:
Potholes
The presence of water causes potholes under the asphalt's surface. Another common cause of potholes is low-quality asphalt made from inferior materials. Inadequate maintenance, combined with the weakening structure, causes those little holes that make those heart-pounding big bumps when you drive over them.
These types of cracks look just like their namesake: alligator skin. If you're noticing a complex system of cracks and fissures on your driveway, it's most likely due to excessive weight or use. Oxidation is another common problem that can cause alligator cracking. Another similar issue is shrinkage cracking, like alligator cracking, only over a larger surface area. Shrinkage is caused by the asphalt contracting and because it loses the ability to bind correctly, especially during extreme temperature fluctuations. We can fix alligator and shrinkage cracks and will have your driveway back to new in no time.
Did you just get your driveway resealed, and you already notice cracking? That's called reflective cracking, and it could be because the old cracks have continued up into the new surface of your driveway. Here at Plano Asphalt Paving, we can fix any reflective cracking issues you may have. If you were the unfortunate recipient of inferior quality asphalt paving services, we would go above and beyond to completely repair your driveway and get it back into top condition.
Concrete Driveway Repair
We also offer concrete driveway repair. Other than asphalt, concrete is one of the most common surfaces for driveways in America. It's inexpensive, provides a smooth surface to drive on, and is easy to pour and install. If your concrete driveway is falling into disrepair, call us, and we'll take a look and offer you a consultation and price quote, no obligation. It's essential to get your concrete driveway fixed right away. When your driveway looks old and crumbling, it sends a message to the neighborhood and community that you don't take pride in your home. It can also be dangerous to drive or walk on, particularly if large chunks are broken or sticking up. We're the number one choice for concrete driveway repair in Plano, TX, because our experts know how to repair or pour any residential or commercial concrete surface.